Did you know that today is National Watermelon Day? I was thinking of all the things I could make, and the Watermelon Margarita kept coming to mind. I originally posted this recipe in September of 2015, and thought this was the perfect time for some updates. In the previous post, I never mentioned how to easily get the juice from the watermelon. I don't have a juicer, so I've had to go through some trial and error to find the best method, you will find the info in the recipe notes below.
This along with the raspberry mojito is one of my favorite summer cocktails. Back in 2015, I saw an article from the New York Times about the fact that we often feel that summer ends on Labor Day, called Why Do We End Summer So Early. This was the impetus for posting this recipe originally. I lived in New York City for several years and summer always unofficially ended on Labor Day, with all summer activities pretty much closing down. Everyone came back from their summer hideaways, like The Hamptons or Fire Island, and the city went back into full swing in preparation for Fashion Week. I have to say I never thought about the fact that summer hadn't actually ended because everything around me said it was over, including the weather. Now that I live in Los Angeles, none of these things happen and it certainly still feels like summer for most of September.
This margarita is so fresh and tasty, it's like a little bit of summer in a glass. I hope you don't stop celebrating summer until it officially ends on Friday, September 22nd. I also hope that you will have many watermelon margarita before that time.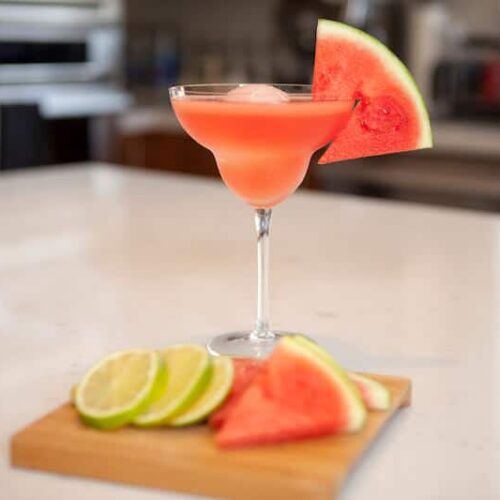 Watermelon Margarita
Ingredients
2

oz

Tequila

2

oz

Watermelon Juice

1

oz

Simple syrup

Juice from 1/2 a Lime

Splash of Cointreau

Lime Wheel for garnish

**For the Simple Syrup**

1

cup

water

1

cup

sugar
Instructions
Add ice to your mixing glass, add tequila, watermelon juice, simple syrup, lime and Cointreau.

Shake

Strain into lowball or margarita glass.

Garnish with a lime.

**For Simple Syrup**

In a medium saucepan combine sugar and water. Bring to a boil, stirring, until sugar has dissolved. Allow to cool.
Notes
How to Juice a Watermelon if you don't have a juicer- After much trial and error, I find that it's best to cut the rind off the melon and cut into chunks and place them in a blender.  I use the "puree" function to get the best results, I then strain the pureed mixture using a fine mesh strainer, this gets rid of the pulp.  I find this to be the easiest, least messy way to get the juice.
You can also see my original video post, when I still called myself the Gluten Free Avenger below or use this link (
http://youtu.be/HqXCMDOONUY
).
Please take a second and give me your comments down below and let me know what you think.
Items Used in This Post: