Imagine a warm summer day and you're sitting on the porch or deck with a few friends and you wish you had a refreshing summer cocktail to sip while hanging out. Never fear Claire is here to the rescue!
Every now and then I like to take some outside classes, and a few I've attended are some mixology courses.  Why not learn how to make something tasty from the experts?! At a recent class they were teaching the different types of drinks to make for hot summer nights.  One of the drinks that caught my interest was one called "Afternoon Tea". The mixologist teaching the course kept referring to it as a "Porch Pounder".  I didn't really get it until I tasted it and then it all made sense.  Basically, a porch pounder is a light and refreshing drink that can be enjoyed in high quantities…..not that you would, of course.
Important safety note from Claire! Please drink responsibly and take a Uber or Lyft home if you really do "sip the day away".  It's better to be safe than sorry!
Basically, I love a refreshing
cocktail
during the summer.  I don't want a summer cocktail that's too strong or too weak.  That's what makes The Afternoon Tea perfect.   It's especially nice because all the fresh ingredients are easy to find like fresh lemon, mint and cucumbers for a sophisticated, yet refreshing drink.  Yes, I know I said cucumber and it sounds weird but it really works with this refreshing summer cocktail.  I find that the long skinny "English" cucumber works best.
I definitely recommend using fresh ingredients if you can, like fresh lemon juice instead of the pre-squeezed versions you can find in the store.  The fresh ingredients make all the difference.  What I discovered, with a little experimentation, is that you can further refine the drink by choosing either vodka (lighter) or gin (stronger).  Obviously vodka and gin are easy to get your hands on, the other liquor is Pims #1.   Pimm's is a British gin-based liqueur with bitter herbs and citrus, also known as a "fruit cup".  It's meant to be mixed in a tall glass with an effervescent mixer and fruit garnish. Turns out its delicious and some people mix if 50-50 with lemonade.   I'll have to try that soon!
Another things I love about this cocktail is that it's also very easy to make in a pitcher so you can serve a crowd or a party. All of the ingredients are easy to find and it literally only takes about 5 minutes to mix up a big batch.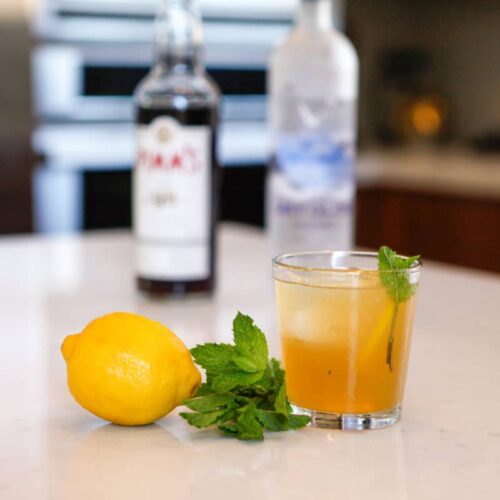 Refreshing Summer Cocktail: The Afternoon Tea aka Porch Pounder
Imagine a warm summer day and you're sitting on the porch or deck with a few friends and you wish you had a refreshing cocktail to sip while hanging out. I've got you covered.
Ingredients
4-5

cucumber slices

Small handful mint

1/2

oz

Honey simple syrup

1

oz

Fresh lemon juice

1

oz

gin or vodka

1/2

oz

Pims #1

5-6

Large Ice cubes
Instructions
Muddle cucumbers, mint and simple syrup 5-6 turns

Add lemon juice, gin, pims and ice. Shake

Garish with mint & cucumber
Say hello on Twitter!
Please Subscribe to my YouTube Channel!