This week I have two special treats for you: #1 my step daughter Aubrey makes an appearance and #2 we are doing a two part Italian feast series. Part 1 is going to be Shrimp and Pea Risotto. Super yummy!  This is Aubrey's recipe, but I added the shrimp and peas to make it a little more interesting, if you just like plain cheese you don't need to add any extras.  As you may already know, risotto is a naturally gluten free Italian item, so there is no need to change the recipe or find different flours to mimic the real thing.  It's just rice, cheese, shrimp and peas.   Next week I will be unveiling part two which will be Parmesan chicken.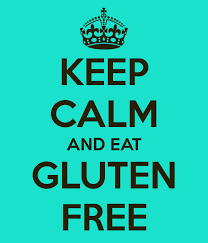 Please check out this week's Gluten Free Avenger Episode 17 Shrimp and Pea Risotto. You can click below to start viewing or use this link (http://youtu.be/7wUEaj4duGs). Please scroll below to see the full recipe.
Shrimp and Pea Risotto
Ingredients
1 1/2

cups

Arborio rice

5

cups

chicken broth

1

cup

freshly grated Parmesan cheese

1/2

cup

dry white wine

3

tablespoons

unsalted butter

diced

2

teaspoons

kosher salt

1

teaspoon

freshly ground black pepper

1

cup

frozen peas

optional

¾

lbs

of shrimp
Instructions
Preheat the oven to 350 degrees.

Place the rice and 4 cups of the chicken stock in a Dutch oven. Cover and bake for 45 minutes, until most of the liquid is absorbed and the rice is al dente.

In a small bowl, toss shrimp in 2 tbsp. of olive oil and season with salt and pepper. In a

Dutch oven (or large stockpot), add the shrimp and cook on medium high heat until they're opaque in the center, about 3 minutes. Remove from heat and place shrimp and juices in a bowl. Set aside.

Remove from the oven, add the remaining cup of chicken stock, the Parmesan, wine, butter, salt, and pepper, and stir vigorously for 2 to 3 minutes, until the rice is thick and creamy. Add the peas and stir until heated through. Serve hot.
Please take a second and give me your comments down below and let me know what you think.