This week I am making my favorite summertime drink, a Raspberry Mojito. I had this drink as a signature cocktail at a cocktail party I hosted and  it definitely was a great hit.  You can make a pitcher of it beforehand and then just add the club soda as you serve each glass.  Many people get scared off by mojitos, probably because you have to muddle and there are a few more ingredients in them than a regular cocktail.  I love the freshness of the ingredients, and so will your guests, that's what is great about this particular cocktail.  Your guests will love it and think that you did something so difficult, but you'll know it was actually pretty simple because I'm going to teach you just how simple it is.
One thing that makes my way of making mojitos different, is that I always strain the mixture before adding it to a glass.  It looks much cleaner, but you also don't get that salad look in your glass that you have to try not to swallow when you drink….no fun.  That's why I always strain my mojitos, so much more enjoyable.
Please check out this week's Gluten Free Avenger Episode 22: Raspberry Mojito- My Favorite Summer Drink, you can click below to start viewing or use this link (https://youtu.be/3BnCZen5-EQ). Please scroll below to see the full recipe.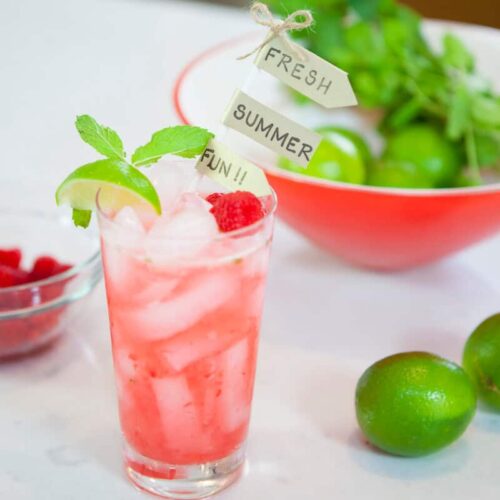 Raspberry Mojito
Ingredients
1 1/2

oz

Rum

2

tsp.

Simple syrup

1/2

Lime

12

Mint leaves

5

Fresh raspberries

2

oz

Club Soda

1

Sprig of mint and raspberries for garnish
Instructions
Clap the mint before adding to mixing glass and add raspberries.

Squeeze lime juice from 1/2 lime into mixing glass and muddle.

Add 2 tsp simple syrup, 1 1/2 oz. rum and ice and shake.

Strain into highball glass and top with club soda.

Stir well and garnish with a lime, sprig of mint and raspberries.
I couldn't find the exact muddler that I used in my video, so here is an alternative:  http://www.amazon.com/Drink-Muddler-Professional-Grade-Cocktail-Muddlers/dp/B00MW45RS2
Please take a second and give me your comments down below and let me know what you think.