Well, it's that time of year, the time to put pumpkin in EVERYTHING…just kidding.  Pumpkin is a very healthy fruit (it is in fact a fruit not a vegetable), so I like to put it in food, deserts etc when I can, especially this time of year.  I decided to make a pumpkin cake rather than the usual pumpkin pie, because I've always loved spice cake and why not get the added benefits of pumpkin right? Here are just a few of the added health benefits of pumpkin:
According to Nutrition and You: 100 g fruit provides just 26 calories and contains no saturated fats or cholesterol; however, it is rich in dietary fiber, anti-oxidants, minerals, vitamins.
According to Medical News Today: The potassium contained within pumpkins can have a positive effect on blood pressure and the antioxidants and vitamins contained within pumpkins could prevent degenerative damage to the eyes.
That being said, adding lots of butter and sugar can detract from these benefits a bit, but hey might as well feel a bit better about indulging right.  This recipe was also featured by Treetopia last year, it will definitely be a hit.  This recipe can be made with regular wheat flour or 1-to-1 gluten free flour.  For a great 1-to-1 gluten free cake flour, I love the one by Authentic Foods, I use it in my cake and cookie recipes and it never disappoints.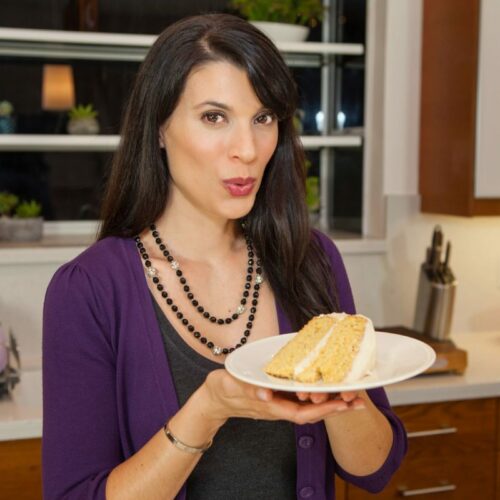 Pumpkin Spice Cake
Ingredients
Cake:

1/2

cup

butter

2

eggs

2

cups

regular wheat flour or gluten-free 1-to-1 cake flour

1 1/2

tsp.

baking powder

1

tsp.

ground cinnamon

1/2

tsp.

baking soda

1/4

tsp.

ground nutmeg

1/4

tsp.

ground cloves

1/4

tsp.

ground ginger

1 1/2

cups

sugar

1/2

tsp.

vanilla

1

cup

buttermilk

1/2

cup

canned pumpkin

Frosting:

1/2

cup

butter

softened

1

8 ounce package cream cheese, softened

3 1/2

cups

confectioners' sugar

1

teaspoon

vanilla extract
Instructions
Allow butter and eggs to stand at room temperature for 30 minutes. Grease and lightly flour 2 8x1 1/2 inch round cake pans, set pans aside. In a medium bowl stir together flour, baking powder, cinnamon, baking soda, nutmeg, cloves and ginger aside.

In a mixing bowl beat butter with an electric mixer on medium to high-speed for 30 seconds. Add sugar and vanilla, until combined. Add eggs one at a time, beating well after each addition. Combine pumpkin and buttermilk in a bowl. Set aside. Alternately add flour and buttermilk/pumpkin mixture to the butter mixture, beating on low speed after each addition just until combined. Then pour into prepared cake pans.

Bake in a 350° oven for 30 to 35 minutes or until a wooden toothpick inserted near center comes out clean. Remove from oven and place directly into freezer for 45 minutes. This will make the cake very moist.

For the frosting: In a large bowl, cream 1/2 cup butter and cream cheese until smooth. Beat in 1 teaspoon vanilla. Add confectioners sugar and beat on low speed until combined, then on high until frosting is smooth. Spread on cooled cake.