This week on the blog and on YouTube I am making pumpkin creme brulee. I had never had creme brulee until I moved to New York City and I went on a date with my now husband and he suggested I get the creme brulee because he thought I would like it. Super creamy desserts were never something I was attracted to, I always liked cookies and cupcakes and things like that. So I decided to give it a try and I fell in love. I proclaimed at that moment that creme brulee was now my favorite dessert of all time. When I later became gluten-free I was so happy to know that I could still have creme brulee. Funny enough, I never actually made it at home until very recently. There's not that much hands on preparation needed but there is a lot of waiting. What makes it so great though, is if you have guests coming over you can make it beforehand and then just caramelize the sugar when you're ready to serve.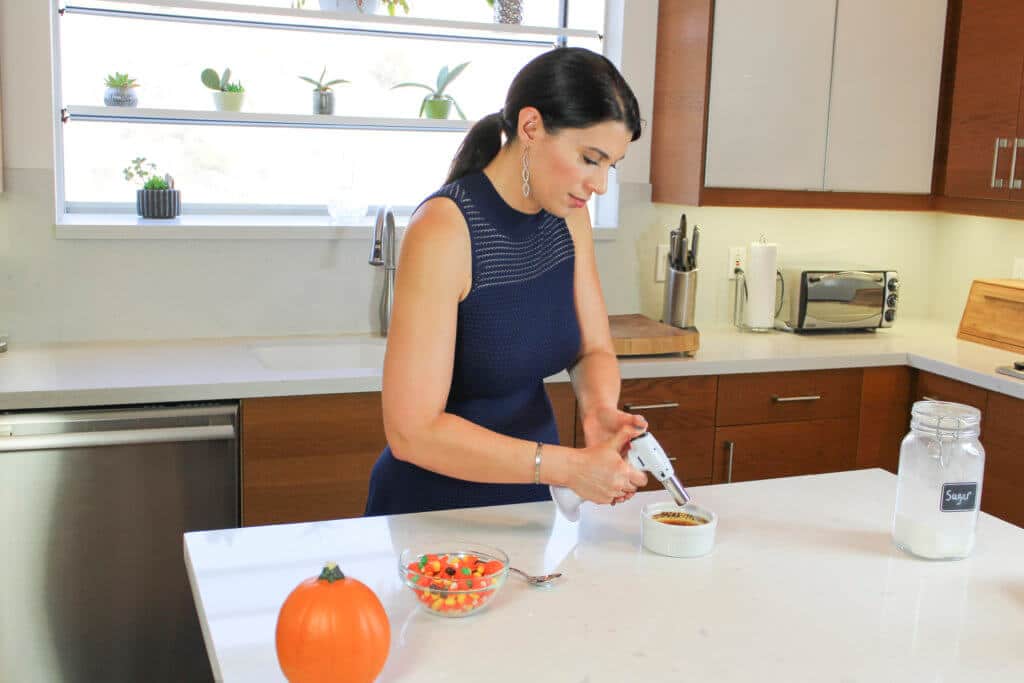 I always have trouble with my gluten-free crust for my pumpkin pie, it just doesn't taste like a gluten-full crust. So this year I am definitely going to be making this pumpkin creme brulee recipe for my guests. Pumpkin Creme Brulee basically tastes like pumpkin pie with a sugary caramel crust… otherwise known as AMAZING! I hope you like this recipe as much as I do and let me know if you make this recipe in the comments below.
Catch my latest YouTube Video too: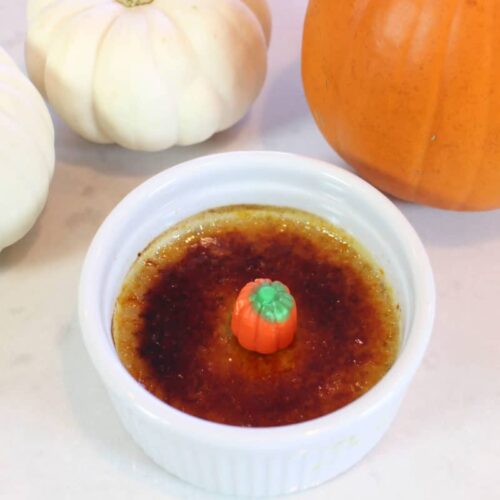 Pumpkin Creme Brûlée
Ingredients
1¾

cups

heavy whipping cream

3

large eggs

½

cup

sugar

will need extra for caramelizing

1

cup

pumpkin puree

2

tsp

pumpkin pie spice mix
Instructions
Pre-heat the oven to 300˚ F

In a medium bowl, whisk together 3 whole eggs and ½ cup sugar until well blended.

Heat 1¾ cup heavy whipping cream in a sauce pan, almost to a simmer; stirring frequently to prevent scorching.

Slowly add hot cream while whisking. Remember not to add too quickly because the eggs might cook....YIKES.

Strain the cream/egg/sugar mixture through a strainer into a large measuring cup or bowl with a pouring lip.

Whisk in 1 cup pumpkin puree and pumpkin pie spice mix. If using homemade pumpkin puree, make sure to blend it to an extra fine puree. If you don't have pre-made pumpkin pie spice mix, you can use: 2 pinches of cinnamon, 2 pinches ground nutmeg, 1 pinch ground ginger and 1 pinch ground cloves.

Divide the mixture into 8 (4 oz) cups and place in a large casserole baking dish or into 2 dishes if they don't fit.

Fill the baking dish with boiling water about halfway up the sides of the ramekins. Bake at 300˚ F for 35-40 minutes. The creme brûlée centers should barely wiggle when you move the pan.

Cool to room temperature then cover and refrigerate until ready to serve. Note: don't caramelize until ready to serve and don't refrigerate after caramelizing, because the sugar will melt.
Making the Crisp topping
Brûlées must be at room temp or cold to caramelize the tops. Put 1 to 2 teaspoons of sugar on each custard, swirl to spread evenly. Torch the tops moving in a circular pattern until the whole surface is caramelized and sugar turns a rich amber color. When you're ready to eat it, break the sugar topping with a spoon to break it up.
Notes
What you will need:
Ovenproof ramekins or custard cups
A handheld kitchen torch.
Details on items I used and wore in this post: