Happy National Peach Month! In its honor, I'm making a Peach Crisp.  If you follow me on Instagram you may have seen my Harry and David peaches that I posted. Well I asked you guys what you wanted me to make and you guys said peach crisp, including Harry and David. So I happily obliged.
The peach crisp is a bit different then the blueberry crisp I made last month and that it doesn't require flour in the fruit mixture.  I also decided to make a bit more of the crisp topping. I made the blueberry crisp for my aunt and relatives last month and my younger cousin was a little sad when she got a middle scoop and it had tons of blueberries but hardly any crisp.  So, I did not want that to happen with this peach crips so I made sure to add a bit more of the topping to the recipe.  I must say it turned out amazing just check out the photos.
Please check out this week's Gluten Free Avenger Episode 24: Peach Crisp, you can click below to start viewing or use this link (http://youtu.be/vuIJJVWvrmQ). Please scroll below to see the full recipe.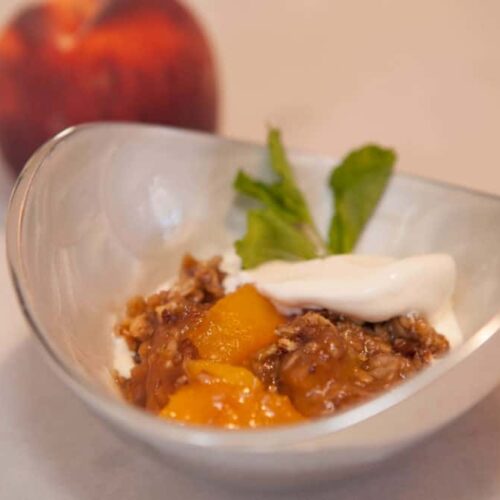 Peach Crisp
Ingredients
Filling:

5

cups

fresh peaches

sliced and peeled

2

tablespoons

sugar

Topping:

3/4

cup

rolled oats

3/4

cup

packed brown sugar

¼

cup

and 2 tbsp GF flour

1/2

teaspoon

cinnamon

¼

c

and 2 tbsp butter

¼

and 2 tbsp chopped pecans

Vanilla ice cream
Instructions
Lightly spray a 2 quart square baking dish and preheat oven to 375°.

For the Filing: In a bowl stir together peaches and sugar. Add to baking dish.

For the topping: in a medium bowl combine the oats, brown sugar, flour and cinnamon. With a pastry blender, cut in butter so that it resembles coarse crumbs, then stir in nuts. Sprinkle topping over fruit mixture.

Bake for 30 to 45 minutes or until fruit is tender and topping is golden. If desired serve warm with vanilla ice cream.
Please take a second and give me your comments down below and let me know what you think.