In mid-December my husband and I decided to host a brunch in our home. We had been sick and missed out on several holiday celebrations and wanted to see our friends before the New Year. We gave less than 7 days notice, so I wasn't too sure of the turnout, but we had 12 people, including two of the best babies around. Given that the headcount was larger than I expected, so I had to make some quick improvisations to make sure we had the table space and enough food. I used a extra table we had and bought a two matching table cloths to make an extra long table and I also tweaked my regular frittata recipe to feed 12-14, see below.
We served:
A fruit plate
Spinach salad with cinnamon sugar pecans, dried cranberries, apple and an apple cider vinaigrette,
Frittata (recipe below).
Cheese grits I wasn't sure if this would be a hit because it's not very "Californian" or light, but there were no leftovers. I used a baked recipe, since my cheese grits recipe is more hands-on and I wanted to be able to hang out with my guests as they arrived instead stirring the grits.
Bacon Nitrate free.
Gluten free Coffee cake- coming to the blog soon.
Croissants These were from a local bakery because I only make gluten free food in my kitchen, but I wanted to have these for my non-gluten free guests.
of course we had plenty of mimosas on hand.
Hosting a brunch can be stressful, that's why I came up with my 6 Tips for Hosting a Brunch That's Stress-Free and Fabulous:
Keep the tables together. One long table is better than splitting the group. If you have to split the tables, make sure they're close by, because nobody wants to feel like they're at the kids table.
Make sure that there is a self-serve drink area. Who wants to worry about getting drinks when you need to greet and mingle with your guests? Make sure you have all the items you need to make mimosas, Bloody Marys, Bellinis or what ever you're serving ready to go. Don't forget the water and non-alcoholic drinks for those not drinking.
Make enough food. Nobody wants to leave a party feeling hungry. I have to admit that this part had me up the night before fretting if I had enough food. That's why I decided to change my Frittata recipe and make 2 in pie pans, since I only have one cast iron skillet.
Keep it simple. This goes for the table decor, I like to keep it simple. I know that a table chock full of beautiful stuff makes a great Instagram photo, but you need to make sure there's enough room for plates, utensils and drinks. Keep the food simple too, test out the recipes before hand and make food the day before when you can. Also, the day of the event is no time to try a new recipe.
Think Ahead. Prepare and set-up as much as you can the day before. I have lots of my "party gear" packed away in a storage closet, so I made sure to have everything in the kitchen/ dining area the day before. I also did my shopping, arranged the flowers ,made the coffee cake and set the table the day before.
Ask about food allergies or limitations. As some of you may know, I have a gluten allergy, so I am particularly sensitive when it comes to making sure that I can feed everyone. Some of my friends are Kosher, and while they know I don't keep a Kosher kitchen, I did make sure to keep the bacon out of the Frittata recipe so that they could eat it. They were very appreciative of the gesture.
Here are photos of the set up, as well as what I served: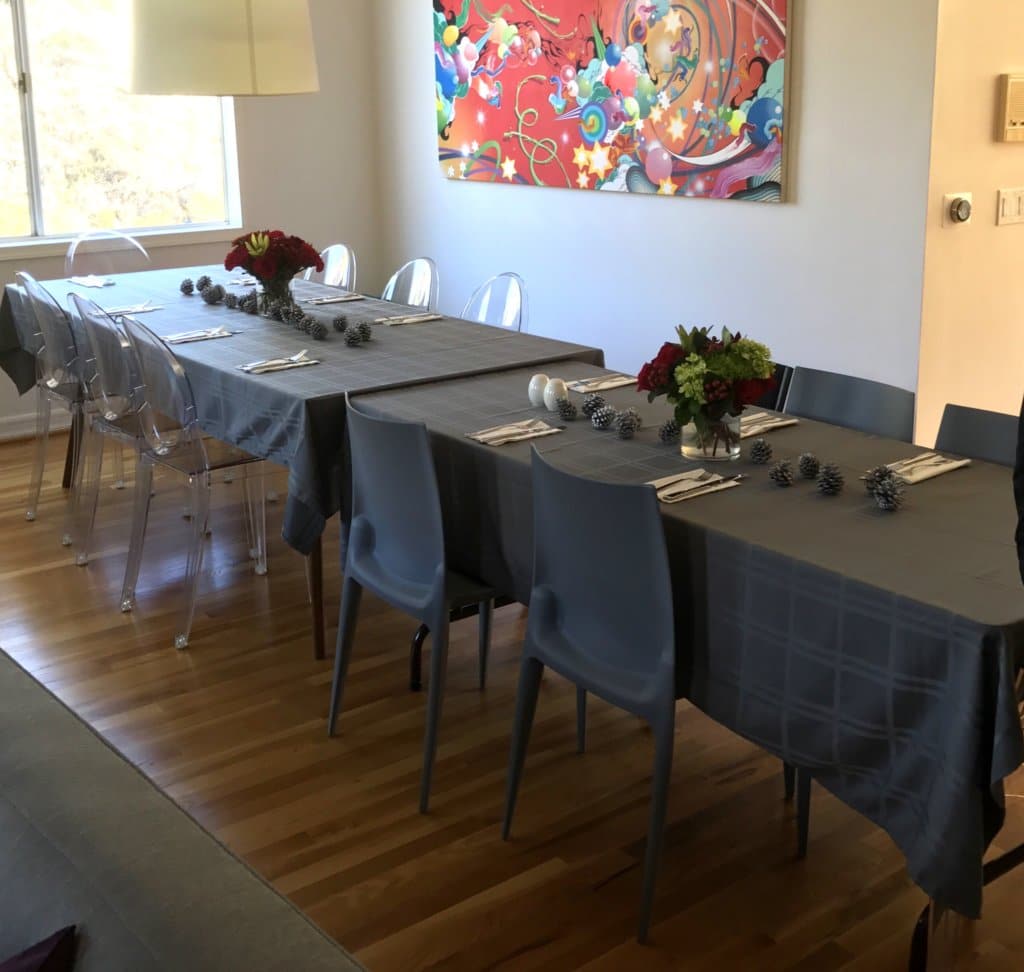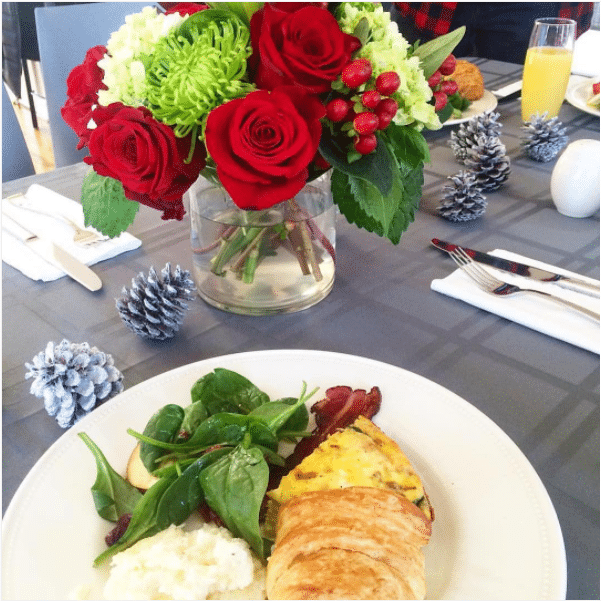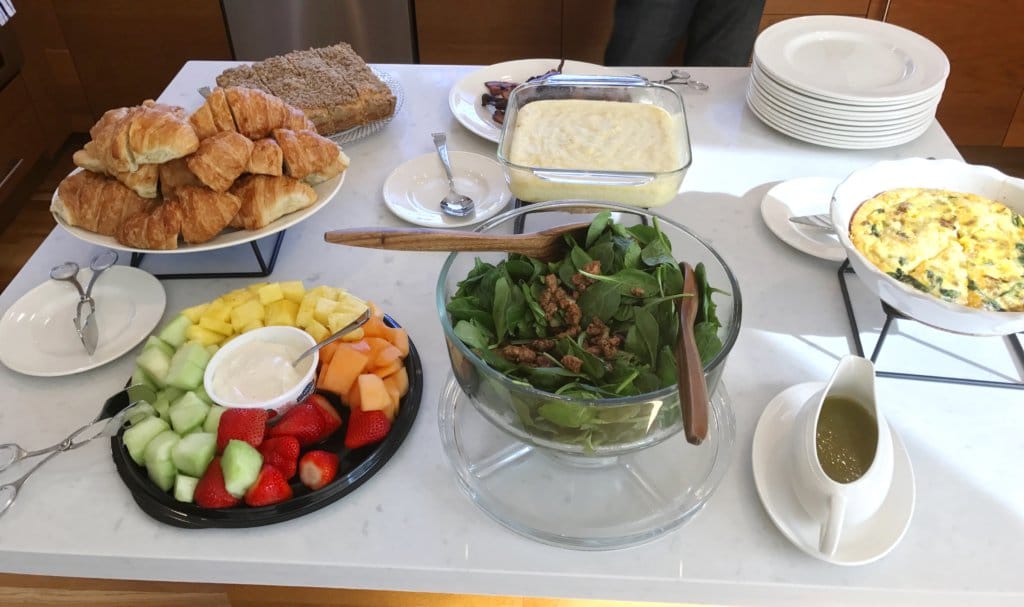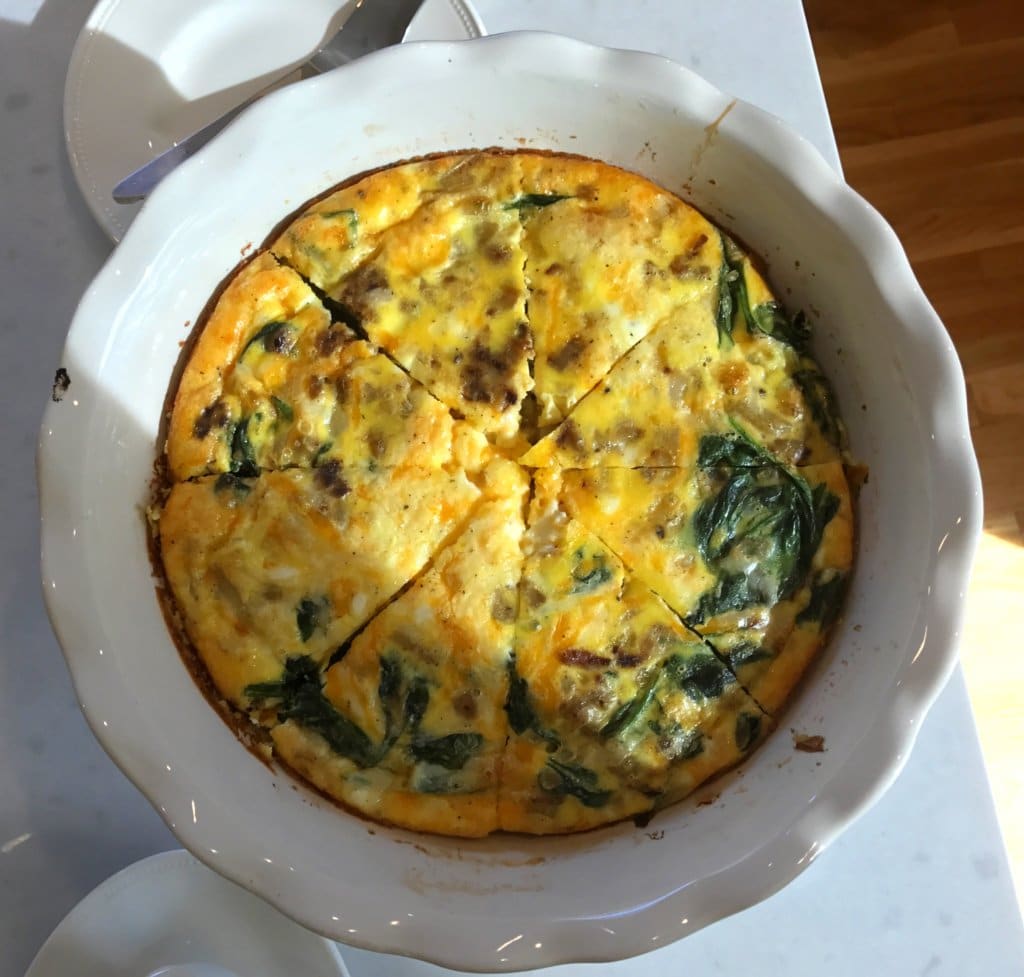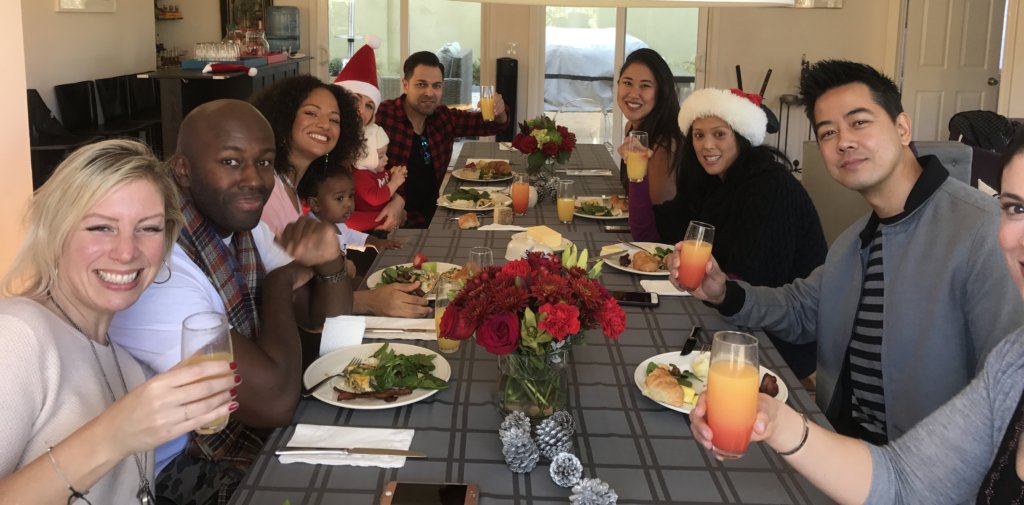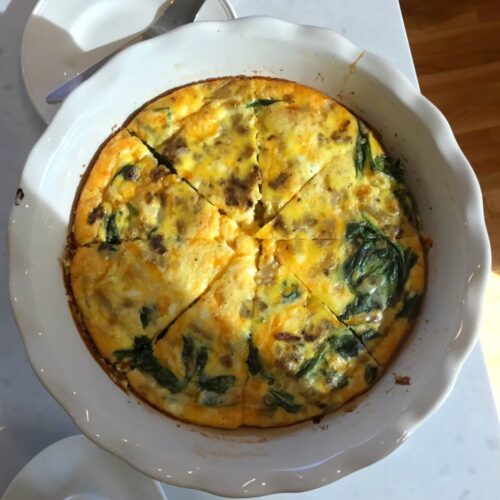 Frittata that feeds 12-14
I adapted my original Frittata recipe so that it would feed 14.
Ingredients
3

tbsp

of oil or ghee for cooking veggies

Salt and freshly ground black pepper

16

large eggs

3/4

cup

milk

1

cup

shredded cheddar/ monterey jack cheese mixture

1

large onion

sliced small

3

cups

yukon gold potato

uncooked, chopped small

3

cups

spinach

6

pieces

cooked bacon

chopped small
Instructions
Preheat the oven to 350 degrees F.

Beat together the eggs with some salt and pepper in a bowl. Stir in the cheese and set aside.

In a large cast-iron skillet, add olive oil over medium-high heat. Add the potatoes and cook until slightly browned. Then add onion, stirring frequently, until soft and golden brown, several minutes. Add the spinach and cook until wilted. Then add the bacon until warm.

Add all the ingredients to 2 buttered pie dishes and evenly distributed across the bottom of both, then pour in the egg mixture so that it evenly coats everything, then put the pie dishes in the oven. Cook, watching it carefully, until the eggs are set but not very brown on top, 20 to 30 minutes.

Slice Frittata into wedges with a long serrated knife and it's ready to serve.
Notes
when I made this for our brunch, we omitted the bacon, so you can always change the ingredients for items that you like.