Peanut butter cookies have always been a favorite cookie of mine. They remind me of childhood and my mother teaching me how to make the crisscross pattern with the fork. According to Wikipedia:
The peanut butter cookie originated in the United States….The early peanut butter cookies were rolled thin and cut into shapes. They were also dropped and made into balls. They did not have fork marks. The first reference to the famous criss-cross marks created with fork tines was published in the Schenectady Gazette on July 1, 1932.
When I started my gluten free journey in 2007, finding a good gluten free flour was very difficult. This lead me to forgo flour all together when I could. That's exactly what I did with this recipe for gluten free peanut butter cookies, making it more decadent take on the traditional peanut butter cookie.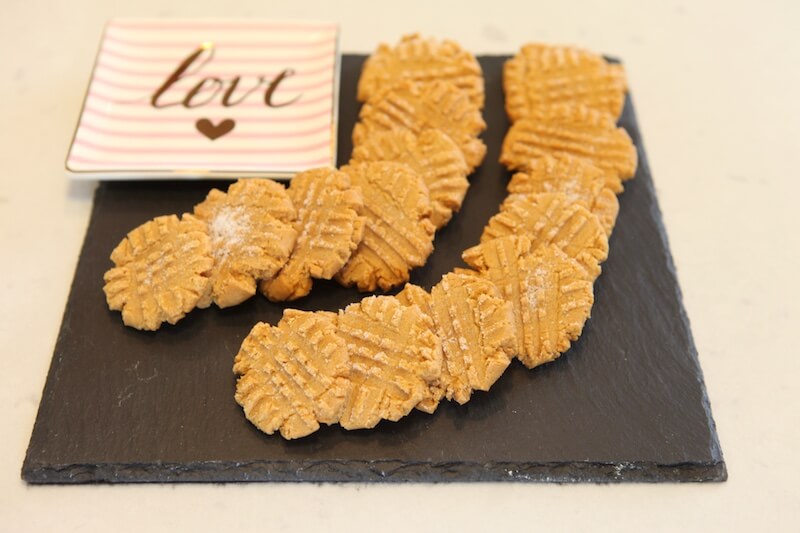 This is such a simple recipe, that you probably have all the ingredients in your pantry right now. When you're preparing them, they are very thick and remind me of the consistency of fudge. Because they don't use flour, they are more dense and concentrated, much like a flourless chocolate cake.
Enjoy!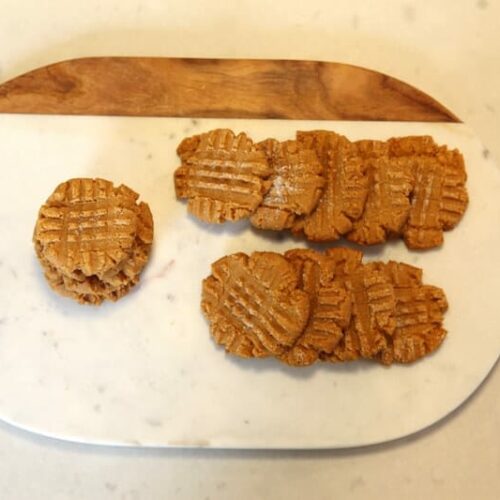 Gluten Free Peanut Butter Cookies
This gluten-free version of a classic does not require a special flour blend; it can be assembled with basic pantry staples. I think of it like the a more rich version of a regular peanut butter cookie.
Ingredients
1

large egg

3/4

cup

granulated sugar

1

teaspoon

baking soda

1

cup

creamy peanut butter

1

teaspoon

gluten-free vanilla extract

3

tbsp

extra granulated sugar
Instructions
Preheat the oven to 350°F and line a baking sheet with parchment paper.

Using a hand or standing mixer, beat egg slightly. Then add granulated sugar, baking soda and vanilla until thoroughly combined. Beat in the peanut butter. Consistency will be similar to fudge.

Roll into 1 inch balls, place onto baking sheet. Add extra granulated sugar to plate, then dip fork into sugar. Flatten cookie in crisscross pattern with the back of the fork.

Bake for 12-15 minutes, until lightly set, they will fully set when cooled. Transfer to a wire rack to finish cooling.