Today I have a very special Fourth of July treat for you. I am making a traditional English dessert called Eton Mess and making it American for Fourth of July.  It's a very simple yet decadent dessert with whipped cream, berries and meringues.  It is easy to make and you can make it before you have people come over and serve it chilled when they arrive.
For a little history on this desert, let's look at what Wikipedia has to say:
"Eton mess is a traditional English dessert consisting of a mixture of strawberries, pieces of meringue, and cream, which is traditionally served at Eton College's annual cricket game against the pupils of Harrow School. The dish has been known by this name since the 19th century. According to Recipes from the Dairy (1995) by Robin Weir, who spoke to Eton College's librarian, Eton mess was served in the 1930s in the school's "sock shop" (tuck shop), and was originally made with either strawberries or bananas mixed with ice-cream or cream. Meringue was a later addition, and may have been an innovation by Michael Smith, the author of Fine English Cookery (1973). An Eton mess can be made with many other types of summer fruit, but strawberries are regarded as more traditional. A similar dessert is the Lancing mess, served throughout the year at Lancing College in West Sussex, England."
Please check out this week's Gluten Free Avenger Episode 19: 4th of July Special- Eton Mess. You can click below to start viewing or use this link (https://youtu.be/shm-uZ9LMFY). Please scroll below to see the full recipe.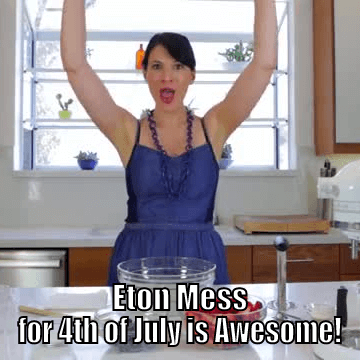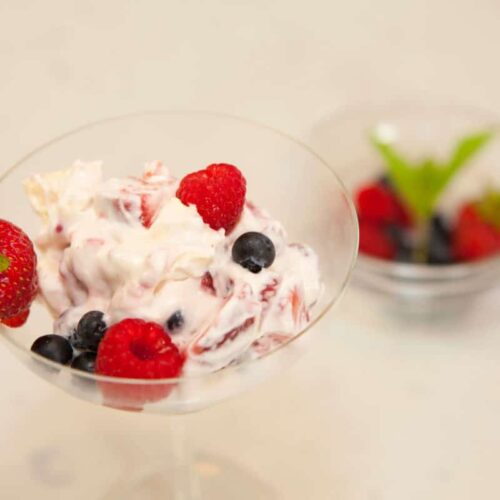 Eton Mess
Ingredients
1

cup

240 ml heavy whipping cream

1/2

teaspoon

pure vanilla extract

1

tablespoon

15 grams granulated white sugar

1

pound

454 grams fresh strawberries, raspberries and blueberries

2

tablespoons

30 grams granulated white sugar, or to taste
Instructions
Whipped Cream: In a large mixing bowl place the whipping cream, vanilla extract, and sugar and stir to combine. Cover and chill the bowl and wire whisk in the refrigerator for at least 30 minutes. When chilled, beat the mixture until stiff peaks form. If not using right away, cover and place in the refrigerator. (The whipped cream can be made several hours in advance.)

Berries: Place about one third of the strawberries (I don't like to mash the blueberries or raspberries) in your food processor and process until just pureed. Alternatively, you can crush them with a potato masher or fork (this is what I like to do). Cut the rest of the strawberries into bite size pieces and place in a large bowl, along with the pureed strawberries. Sprinkle the granulated white sugar over the strawberries and stir to combine (can be made about one hour before assembling the Eton Mess).

Eton Mess: Break five to six meringue cookies (use more or less if you like) into bite size pieces. Then fold in the berries and meringue cookies into the whipped cream. Place in pretty dessert bowls or long stemmed glasses. Serve immediately.
Please take a second and give me your comments down below and let me know what you think.