Today on the blog I'm sharing a recipe for a drink called Bubbles and Berries. It's inspired by the Bubbles and Berries cocktail at the restaurant Beauty and Essex in Los Angeles. If you follow me on Instagram and see my Instastories, you know that I thoroughly love Beauty and Essex. I've been in contact with their PR group and they were so gracious to give me the recipes to several of their cocktails, which I'll be doing in a future post.  Unfortunately, they did not give me the recipe to this one, so I watched the bartender carefully and made a few tweaks to come up with this recipe. Specifically I don't have sweet-and-sour at home so I make my own.  It's actually a lot easier than you'd think, all you need is simple syrup and lemon juice.
I must add that I haven't always been a fan of St. Germain, which is an Elderflower Liqueur.  I first had it in a signature drink at a party, I immediately disliked the drink and thought it was because of the St. Germain.   Since then, I've avoided all cocktails with St. Germain, until this one because the waitress at Beauty and Essex said you couldn't taste it.  She was right, but now I've learned that St. Germain isn't half bad and that my first encounter with it may have just been a bad cocktail.
This is one of my favorite drinks and I hope that you like it too.  Here's a link to the YouTube video so you can see me make it and you'll find the recipe below: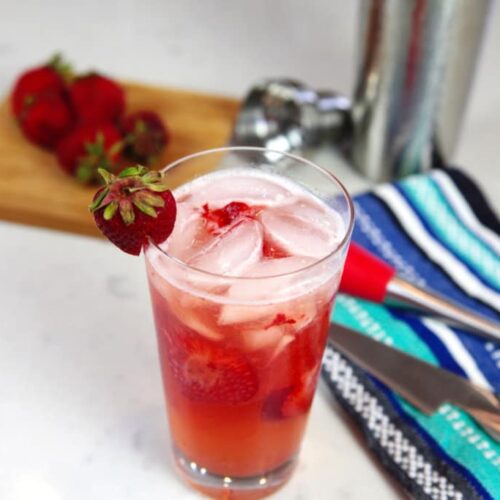 Bubbles and Berries
Ingredients
1

oz

Simple Syrup

1/2

oz

of lemon juice

2

strawberries

1 1/2

oz

of St. Germain

1

oz

of vodka

top with Champagne
Instructions
Add simple syrup, lemon juice and strawberries to the mixing glass and muddle. Then add St. Germain, vodka and ice. Shake. Add mixture to final serving glass, top with champagne and garnish with strawberries.
Notes
Adapted from Beauty and Essex Los Angles