Happy National Blueberry Month! In its honor, I'm making a Blueberry Crisp. This is a crisp rather than a cobbler, because the crust is crispy instead of doughy or biscuit-like.
This takes me back to my childhood. Berry crisps/ cobblers have always been one of my favorite desserts. Unfortunately, many times they are made with regular flour so I haven't been able to enjoy them out in quite a while. I've been working on perfecting this recipe for a while now, so that it's simple and most of all tasty. Is it ever, ever bite takes me back to eating out with my mom at Cracker Barrel….now their cobbler had a more doughy crust, I like this cinnamon crunchy one so much better.  When I lived in New York after college, my mom and I would go to Cracker Barrel in Milford, Connecticut as an escape from the overly saucy, non-homey food (at least to me) in New York….sorry, this California/ Texas girl likes to keep it simple. I would always order the grilled fish with a side of veggies so that I could "afford" the calories in the blackberry cobbler. I would never share my desert either, it was mine, all mine.  I hope you enjoy my trip down memory lane with this Blueberry Crisp.
Please check out this week's Gluten Free Avenger Episode 21: Blueberry Crisp, you can click below to start viewing or use this link (https://youtu.be/_p5CFUi010Q). Please scroll below to see the full recipe.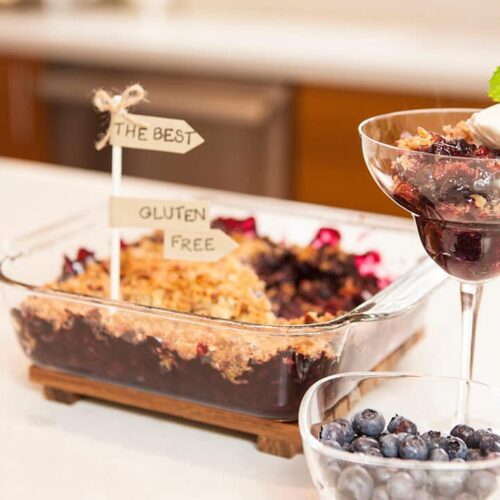 Blueberry Crisp
Ingredients
Filling:

5

cups

fresh blueberries

4

tablespoons

sugar

3

tablespoons

GF flour

Topping:

½

cup

rolled oats

½

cup

packed brown sugar

¼

cup

GF flour

¼

teaspoon

cinnamon

¼

c

butter

¼

chopped pecans

Vanilla ice cream
Instructions
Lightly spray a 2 quart square baking dish and preheat oven to 375°.

For the Filing: In a bowl stir together blueberries, sugar and flour. Add to baking dish.

For the topping: in a medium bowl combine the oats, brown sugar, flour and cinnamon. With a pastry blender, cut in butter so that it resembles coarse crumbs, then stir in nuts. Sprinkle topping over fruit mixture.

Bake for 30 to 45 minutes or until fruit is tender and topping is golden. If desired serve warm with vanilla ice cream.
Please take a second and give me your comments down below and let me know what you think.