On today's blog I am sharing some photos and video of how to revamp your desk. My desk is located in my bedroom and I often work from home and this is where I do it. My desk was very functional and utilitarian and had no pretty spaces. I decided that it was really hindering my creativity and free-flowing thoughts and I wanted to make a change.
The Simple 3 Step Plan to Revamp Your Desk
De-clutter– remove all unnecessary items off the desk and move papers and files to a filing cabinet.
Cable Management– get a cord/ cable keeper and use zip ties to organize the cables behind the desk.
Add Inspiring Pieces– What's inspiring to me, may not be inspiring to you.  Find what makes you happy, you can often find these items in other areas of your house, like I did.
The desk is actually from IKEA, I purchased it four years ago and it has served me very well.  I also worked for quite a while to manage the cords and cables behind the desk. As you can see from the before picture and the after picture it made such a huge difference. I always find ways to use zip ties in my home. While doing these little things for your desk isn't a necessity for some, I find that having pretty uncluttered spaces helps with the clarity of my thoughts.  If I have lots of clutter around me, I feel stressed out, until I fix it. Since I work from home it's very important that I'm not stressed out by clutter, jumbled cords and other stuff on my desk.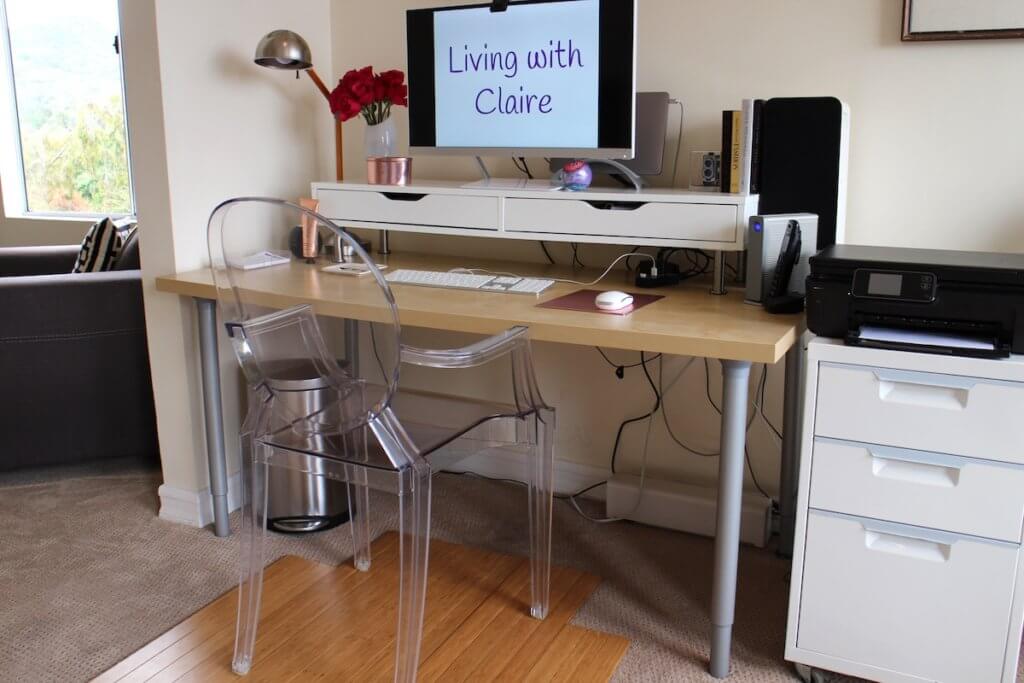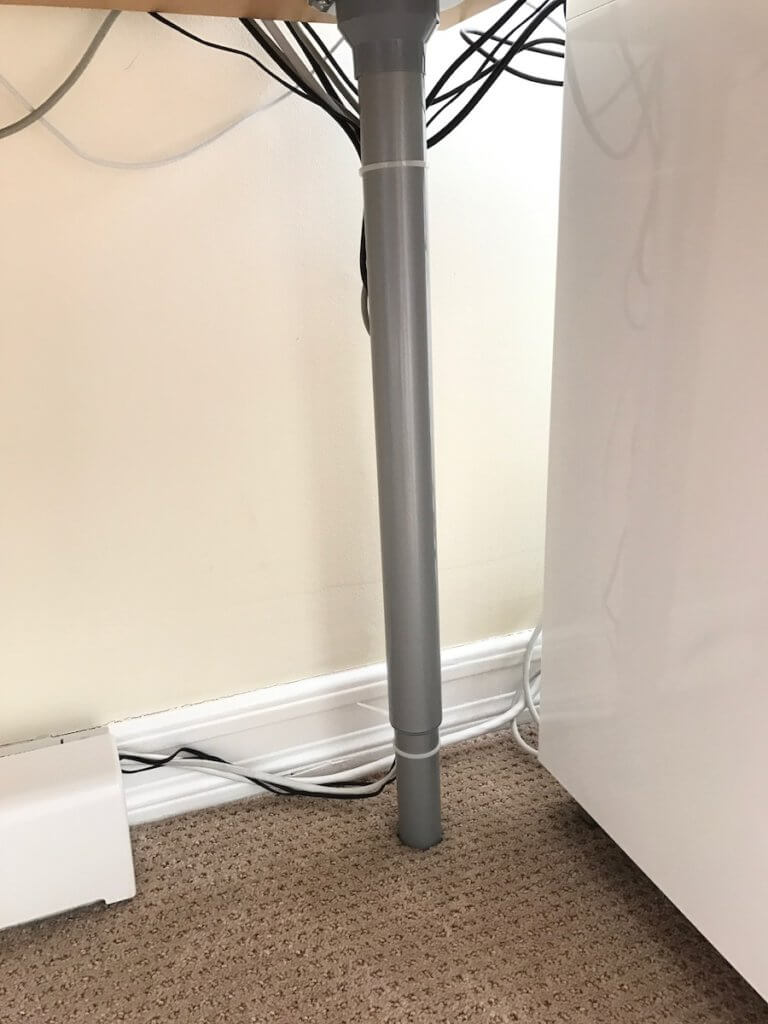 I decided to take things that I already had in the house and repurpose them for my desk, Such as the books that I have a my desk, I already had them I just decided to display them. The cool little camera that I have on my desk, I "stole" from my husband's camera collection in his office (he does know about it). The really cool candle on my desk was from my stepdaughter and it was a Christmas present.  I repurposed a lamp that was in our guest bedroom and switched it out for the one that was originally on my desk, which just wasn't quite right. I like this lamp much better on my desk and the other lamp actually looks much better in the guest room.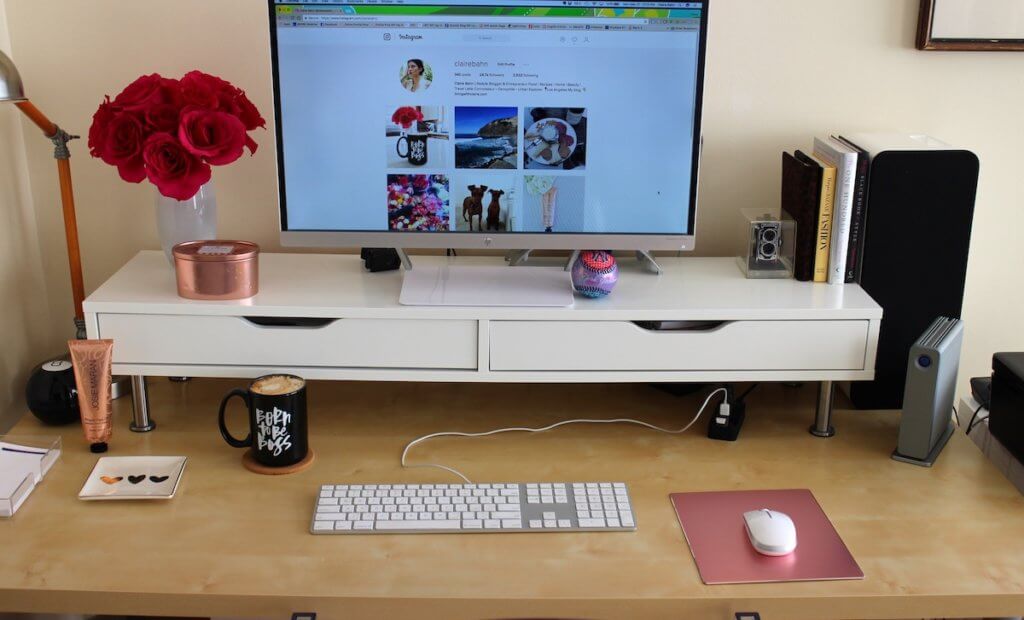 The two things that I did buy were the rose colored mouse pad and the new white mouse. They weren't a necessity but since my desk was starting to look so much more pretty and reflective of me and my style, I wanted to make sure that everything was a reflection of me not just some. I also decided to move the computer, which was originally in a stand to the right of the monitor, it is now behind the monitor and now I have the pretty books to the right of my monitor.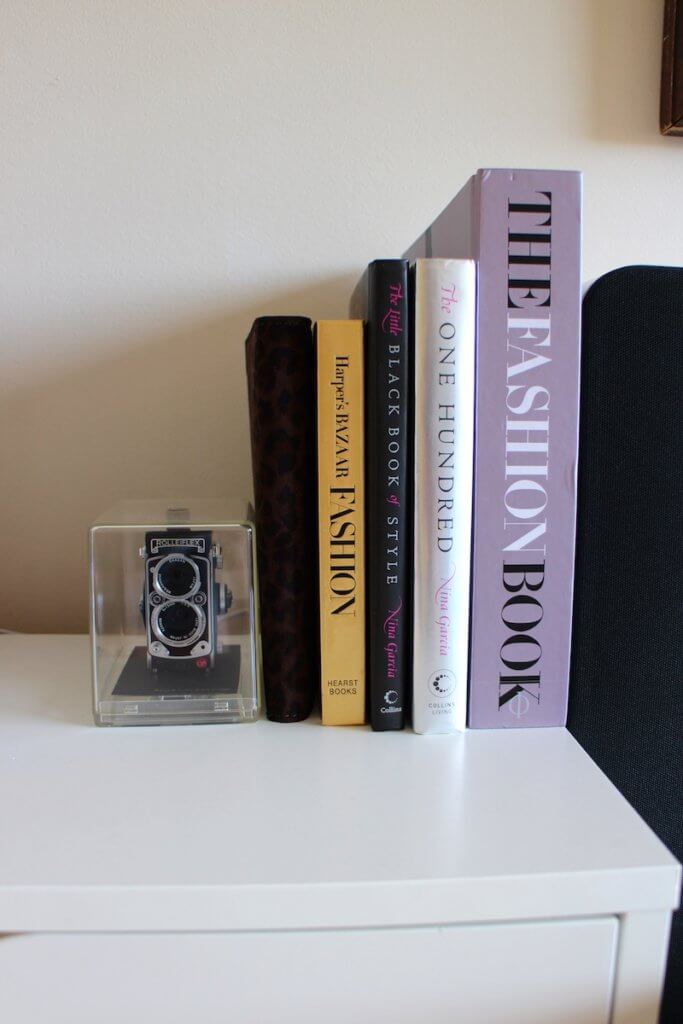 Before I actually did the desk revamp, I was having trouble focusing.  My husband was actually telling me to work on the dining room table so that I might be able to work a little better. I'm glad I solved the actual problem rather than just finding a work-around. I hope this inspires you to declutter your desk or any other space in your home as well.
~Claire
Here's the video, you'll find links to buy items on the desk below:
Links to Purchase Items on the Desk: