I've always loved the way the perfect blazer can pull together an otherwise ho-hum outfit.  It can make a low-key casual outfit infinitely more stylish.  The women's blazer is also a great piece to help you transition into fall, you can easily wear a favorite summer outfit and throw on a blazer to get wear out of it as you move into fall.  I got my first blazer in New York City, shortly after graduating from college, it was a fitted black corduroy blazer.   Now corduroy is a casual fabric, but in the right color it can look more formal.    I must mention that I am talking about a women's blazer and not the jacket that is part of a 2 piece suit, which can often be worn as a blazer.  I will often wear the jacket of a 2 piece suit without the suit skirt or pants, but I have about 5 stand alone blazers in cotton and wool to suit my mood and any outfit.
1. Know your budget and stick to it.
I said this in my last post about classic black pumps, you need to stay within your budget.  If your budget is $150, find the blazer best you can for that price.  If you are on a tighter budget, I would suggest going to online stores like The Outnet, Gilt Groupe and Saks Off 5th.  There you can find higher end pieces at a reduced rates.  I found my Elizabeth and James blazer above on Gilt Groupe at 60% off retail.
2. Only get a classic women's blazer.
If you don't have an unlimited budget, only buy something classic that you will wear for many years.   For example, don't go for anything too trendy or made with inexpensive fabric or heavy fabric.  I would stick with a simple lightweight wool option, it's not too heavy and thick, which can look really out of place during the spring and cool summer evenings.  I would also stay away from a blazers made out of sweater fabric, they will not hold their shape in the long-term.  If you do opt for a trendy option, make sure you have your basics first.
3. Start with a neutral color. 
Your first foray into any wardrobe classic should start with getting the basics.  Anything neutral would be basic, such as black, brown, beige, navy or grey.  I always gravitate to black, ( too much time in NYC) but if you don't wear black, choose another neutral like a nice shade of brown or navy blue.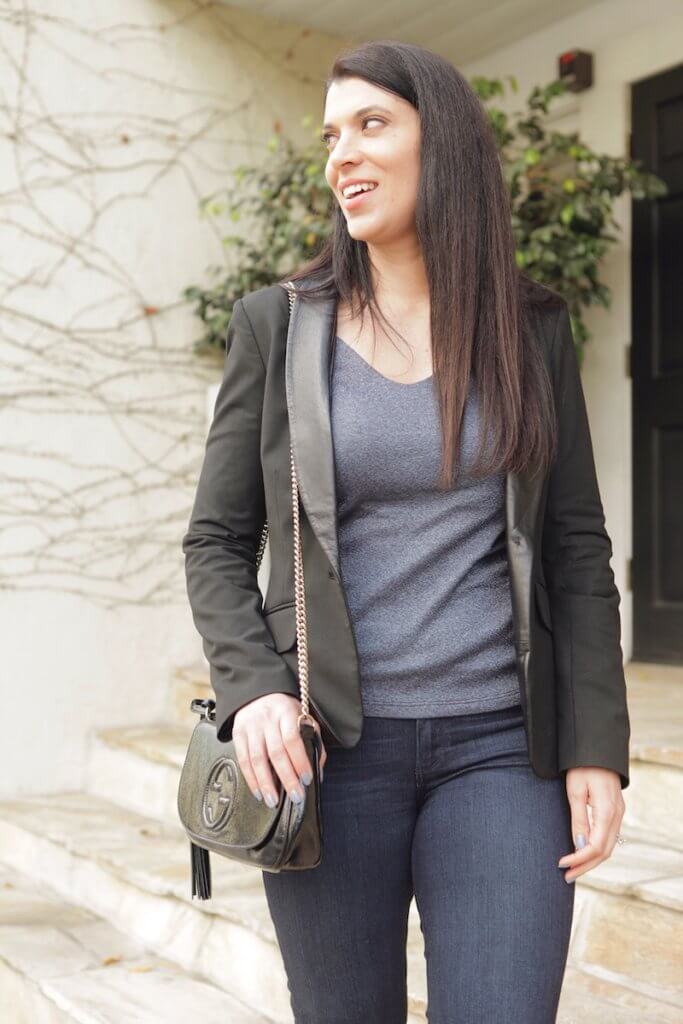 4. Start with a lightweight option.
So, as I mentioned in my story above, my first blazer was corduroy.  I would however not suggest getting velvet or corduroy for your first blazer.  You will only be able to get limited wear out of them because they are usually only worn in fall and winter.  I would suggest a lightweight wool option that can be worn year round.  If wool seems too stuffy, then go with a cotton option like the one I'm wearing below.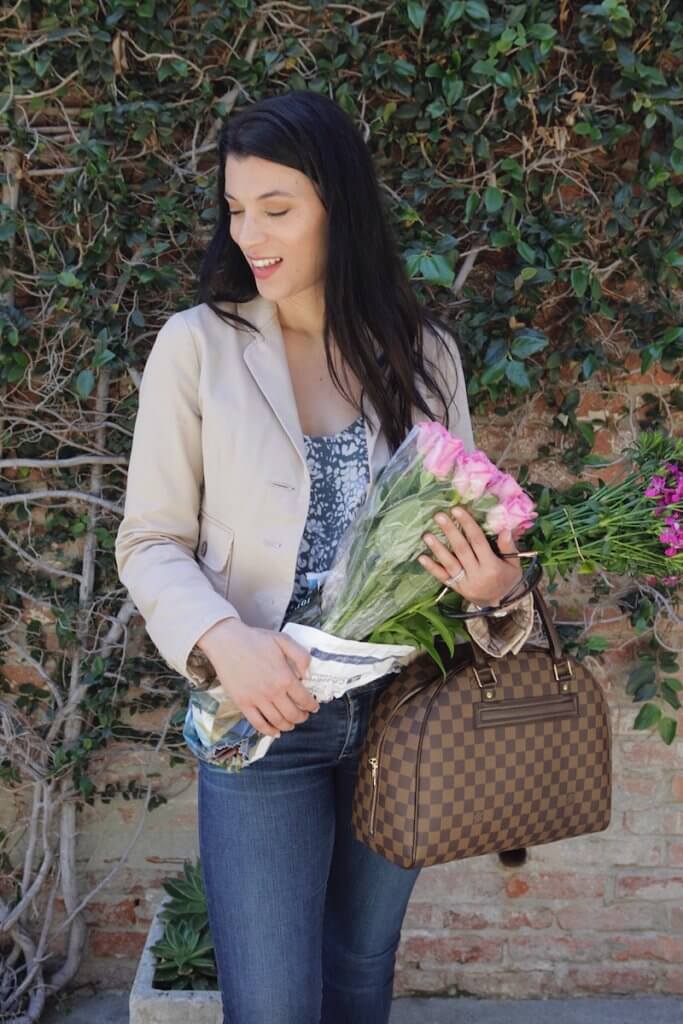 5. Utilize a great tailor.
What's the difference between an expensive blazer and a cheap one?  Fabric and fit.  So even if your blazer is not the best fabric, make sure that the fit is impeccable.  That will make it look much more expensive than it actually is.  So, you've found the perfect high-end blazer at an amazing price, but the fit is not so perfect.  One lesson I learned early on is the value of a good tailor and cobbler. A tailor will become your best friend in this case, ask them to tailor it specifically to your body.  Ask for tailor recommendations from your friends or even Yelp and don't just go to your local dry cleaner because they may not be skilled enough to do major tailoring.  Remember, it's much easier to take an item of clothing in than it is to let it out (make it bigger), sometimes it can be impossible because there isn't enough fabric. So if given the choice, buy a bigger size so the tailor has more to work with. Regardless, many times you can find the perfect blazer at an amazing discount and then have it tailored to fit you perfectly. It still ends up being much cheaper than the retail price.
Here are some options at $150 and under:

Here are some great mid-priced options:

I love a good sale! Here are some high-end options on sale:

Happy shopping!