It's National Waffle Day, so how about some Gluten Free Almond Waffles?  I must admit that I didn't remember that it was National Waffle Day today until this morning.  Once I realized, I knew that I had to make waffles. Thank goodness my grandmother gave me a Belgian waffle maker years ago. I do love it when my family remembers is how much I love to bake and cook.  So I whipped up some delicious waffles but modifying my almond blueberry pancakes recipe to make these waffles. The recipe is below and because I didn't have a lot time, there is no accompanying video but I did take plenty of photos.
So if you find this a little too late to make breakfast today, you can always have waffles for lunch or dinner.   Please let me know if you end up making these.   I hope you have a wonderful National Waffle Day!
XO,
Claire- The Gluten Free Avenger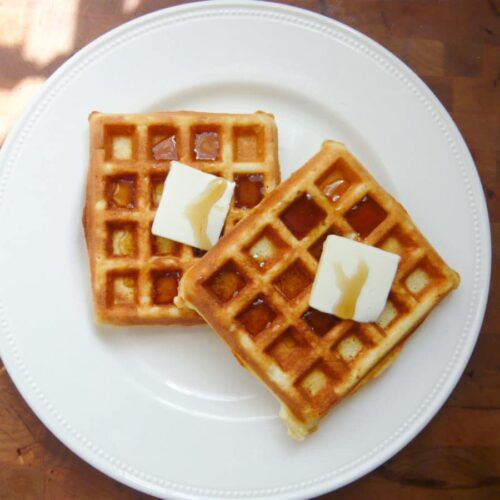 Gluten Free Almond Waffles
Ingredients
2

eggs

1

teaspoon

vanilla

½

teaspoon

almond extract

2/3

cup

milk or unsweetened almond milk

2

tablespoons

melted butter or vegetable oil

1/2

tablespoon

sugar

2/3

cup

all purpose gluten free flour

1

cup

almond meal

1

teaspoon

baking powder

¼

teaspoon

salt

cooking spray for waffle iron

Butter and Maple syrup for waffles
Instructions
In a medium size mixing bowl, whisk together the eggs, vanilla, almond extract, almond milk, melted butter (cooled) and sugar until combined.

Fold in the flour, almond meal, baking powder, and salt. Mix until combined.

Turn on your waffle iron, sprinkle with water, if water sizzles its ready. Once iron is hot, spray both sides with cooking oil and add batter, making sure not to over fill. Cook for 4-5 minutes, until golden brown. Gently remove with fork or tongs.

Serve waffles immediately with butter and maple syrup.