This post was originally posted in February of 2015 and was my first post on this blog as my old moniker "Gluten-Free Avenger".  In celebration of my blog turning 2 and because this is just a kick-ass recipe, I thought I would share it again.  I love to make spritz cookies for many holidays because you can make them into fun, holiday-appropriate shapes and it happens to be my husband's all-time favorite cookie.  These cookies will disappear quickly with guests, so I usually make 2 batches (at the very least).  I remember when I brought a huge bucket of about 100+ of these cookies to my sister-in-law's house for a holiday party and my stepdaughter and her friend snuck off with all the cookies.  By the time we finally found them, there were only about 10 cookies left.  They're addicting….you have been warned.
I started making the regular gluten-full version of these when I was about 13.  Now that there are so many good 1-to-1 gluten-free flours on the market, I can now share my original family recipe.  You can use a 1-to-1 gluten-free flour or if you're not gluten-free you can use regular flour.  I like Authentic Foods Steve's Gluten Free Cake Flour Blend
as my 1-to-1 gluten-free flour for cakes and cookies.  If you want to learn more about Authentic Foods, check out my interview with Steve here.
Here is my first episode of Gluten Free Avenger from February 2015: http://youtu.be/UrvKq80a284 or see it below, please note that the recipe/ method is a bit different since I'm now using the 1-to-1 gluten-free flour.  The full recipe and links to get the items used in this post are below.  I hope you love these cookies as much as I do!!  Let me know if you make them in the comments below.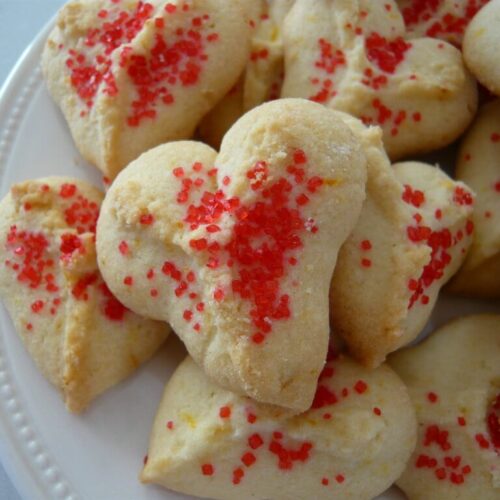 Gluten Free Spritz Cookies
A favorite cookie for any holiday
Ingredients
2/14

cups

1 to 1 Gluten Free

like Authentic Foods Steve's Gluten Free Cake Flour Blend

1

tsp

baking powder

1/4

tsp

salt

3/4

cups

butter

1/2

cup

sugar

1

egg

2

tsp

grated orange peel

1/2

tsp

almond extract

Decorative sugars..have fun with colors!!
Instructions
Stir together the flour, baking powder and salt. Set aside.

Beat butter in a mixing bowl for 30 seconds. Add sugar and beat until fluffy. Beat in egg, orange peel, and almond extract.

Add dry ingredients to wet mixture and beat till combined. Do not chill dough.

Pack dough into a cookie press. Force the dough through a cookie press onto an ungreased cookie sheet. Decorate with colored sugar or candies, if desired.

Bake in a 400° oven for 8 to 10 minutes or until done. Remove and cool on wire racks.